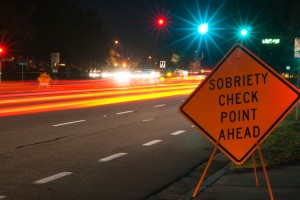 Local Ohio organization Cop Block recently protested a planned drunk driving checkpoint in Washington Township in Montgomery County arguing the stops are unconstitutional.
Members of the organization allegedly advised drivers to turn around and take an alternate route to avoid stopping at the police-organized checkpoint, according to ABC 22 News. The group allegedly did so because members believe the checkpoints are not in accordance with law.
DUI checkpoints, or OVI checkpoints, are police-planned stops in which law enforcement officers use cones and barricades to funnel traffic into an area in which drivers can be questioned. The vehicles are temporarily stopped in a specific sequence and drivers are checked for symptoms of being under the influence of alcohol or drugs.
DUI checkpoints and roadblocks are highly controversial and the actions often are debated around the country. Drivers wonder if the stops are legitimate, especially because law enforcement officers should have probable cause to stop a vehicle.
However, DUI checkpoints are considered legal in nearly 40 states, including Ohio. According to the ruling in Michigan v. Sitz, 496 U.S. 444, checkpoints are valid because the dangers of drunk driving outweigh the "degree of intrusion" involved in sobriety checkpoints. The ruling also said these checkpoints are an exception to the search and seizure provisions of the U.S. Constitution.
This does not mean officers have no procedure to follow while administering the checkpoints. There are requirements law enforcement agencies must follow when not only planning but administering the stops. For instance, a pattern of which vehicles to stop must be established prior to the checkpoint.
Additionally, police officers must have a strong reason to believe a person is impaired before they can stop the driver for an extended period of time. For example, if an officer smells alcohol or marijuana during the temporary stop, there is reasonable suspicion the person is impaired. The officer could ask the driver to pull over.
Then, the officers are expected to follow the same protocol he or she would during a routine traffic stop where the officer suspects the driver is impaired. A breath test likely would be administered, and an arrest could follow, depending on the results.
The advance planning of these checkpoints are crucial when ensuring they are carried out legally. For instance, it is a requirement that the checkpoints and roadblocks be published in advance. This could mean having the information in the local newspaper or even announced on radio stations, sometimes weeks in advance.
Although the stops are highly debated, drivers should remain cooperative during the checkpoints. This could make the situation easier and allow drivers to continue moving through the stop without issues. Rolling down windows and listening to law enforcement can help ease the hassle of the roadblock.