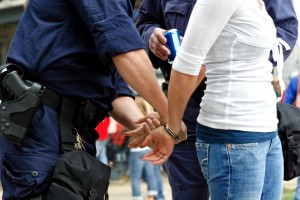 ComFest is one of the largest organized annual events in Columbus, and each year it serves as one of the busiest times for local and state law enforcement agencies in the area.
The festival, held at Goodale Park in the Victorian Village area, is aimed at gathering the community for a weekend of musical performances, entertainment, food and drinks, art and other festivities. Hundreds of people volunteer each year, helping the festival thrive since 1972.
This large gathering of people often leads to several arrests. Law enforcement officers take an active role in ensuring the festival is safe and those in attendance obey the laws. In previous years, the festival has been closed early because of rowdy festival goers.
Local law enforcement agencies have undercover officers in the crowd at the event searching for those committing various crimes, including underage drinking, open container, drug trafficking, drug possession, possession of drug paraphernalia, disorderly conduct, assault and more.
Agencies also schedule drunk driving checkpoints near the festival to catch those who consume alcohol and get behind the wheel. These checkpoints can lead to a plethora of types of OVI arrests, all of which can carry steep consequences.
In Ohio, a first offense OVI is first-degree misdemeanor, which is punishable by a minimum of three days in jail and a maximum of 180 days in jail, fines up to $1,075 or both. A second offense within six years could be punishable by between 10 and 180 days in jail, $300 to $1,500 in fines and a driver's license suspension between one and five years.
A third DUI offense would be considered much more serious in Ohio. Depending on the situation, this could result in two or more years of an administrative license suspension, between two and 10 years of a court-issued license suspension, lengthy jail sentences, up to $2,750 in fines and a mandatory treatment program.
The penalties for an OVI offense can change depending on several factors, including the driver's level of intoxication. If the results of a chemical test indicate an alcohol level of 0.17 or above, the penalties could be enhanced. This could mean longer jail time, expensive fines and an extensive driver's license suspension.
Drugged driving also is serious offense, and drivers could be targeted during ComFest. These checkpoints are used to catch drivers who may be under the influence of certain prescription drugs or illegal narcotics, including marijuana. The penalties would be the same as an OVI charge.
This event has a huge police presence, and visitors should be careful coming and going from this event. If festival goers are arrested for an offense, it is important to remember your rights, including the right to an attorney. Call Joslyn Law Firm at (614) 444-1900 to schedule a consultation with dedicated and experienced legal counsel and begin fighting the charges today.