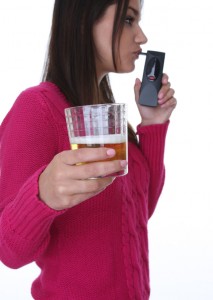 More drivers throughout Ohio who are stopped for suspicion of drunk driving are refusing to submit to a chemical test, despite facing criminal and administrative repercussions.
According to Ohio Bureau of Motor Vehicles data, nearly 83,000 Ohioans were under an administrative license suspension in 2013, the Telegraph-Forum reported. Of those thousands, 54 percent of the suspensions were for drivers who refused a breath test.
Ohio is one of many states that is considered an implied consent state. This means when a police officer stops a driver for suspicion of driving under the influence, he or she is expected to consent to a test of his or her blood, breath or urine to determine the level of intoxication, if any. This would apply to all drivers, whether or not they are residents of the state.
After an arrest for operating a vehicle under the influence of alcohol or controlled substances, or a DWI, the arresting officer is required to read a warning to the alleged offender under Ohio Rev. Code § 4511.192. This warning would explain the consequences of refusing to submit to chemical testing.
When a person refuses the test, his or her license will be administratively suspended immediately and he or she will be required to attend a hearing in court about the matter. This driver's license suspension is done separately of the criminal charges that could be filed against a person. A suspension could last for up to one year, depending on the circumstances of the case.
In some instances, an administrative suspension could be longer, depending on several factors. For instance, the judge at the hearing could insist the suspension be extended. If a person refuses a chemical test more than once, he or she also could see increased penalties for subsequent refusals.
Additionally, the criminal offense of refusing to submit to a breath test also could carry a license suspension separate from the administrative penalties. The offense would be considered a misdemeanor of the first degree.
The data from the Ohio Bureau of Motor Vehicles also showed that 46 percent of the drivers who had their license suspended in 2013 were drivers who blew a positive breath test. This means even without a refusal, a person could face administrative penalties.
Administrative license suspension penalties for a positive test with a blood alcohol concentration greater than 0.08 percent within six years of a prior conviction could include:
1st Failed Chemical Test – 90 Day License Suspension – 15-day waiting period
2nd Failed Chemical Test– One Year License Suspension – 15-day waiting period
3rd Failed Chemical Test – Two Year License Suspension – 180-day waiting period
4th or Subsequent Failed Chemical Test – Three Year License Suspension – 3-year waiting period
Drivers have the right to appeal the administrative penalties associated with a DWI, or DUI. Drivers, however, must appeal the suspension within 30 days of the suspension notice with the Bureau of Motor Vehicles. This petition may be filed in the municipal or county court that has jurisdiction over the place where the arrest occurred.
A person could be granted an administrative hearing, which is separate of the criminal case, in which he or she could present evidence and examine witnesses to exhibit why driving privileges should not be suspended.  A positive outcome in the hearing could mean having driving privileges reinstated.
If you have had your license suspended as a result of a DUI breath test refusal or you produced results over the legal limit, contact Columbus DUI defense attorney Brian Joslyn of Joslyn Law Firm. Our legal team is experienced in fighting both administrative and criminal penalties associated with DUI charges. We can help you regain your driving privileges. Call (614) 444-1900 to schedule a free initial consultation.